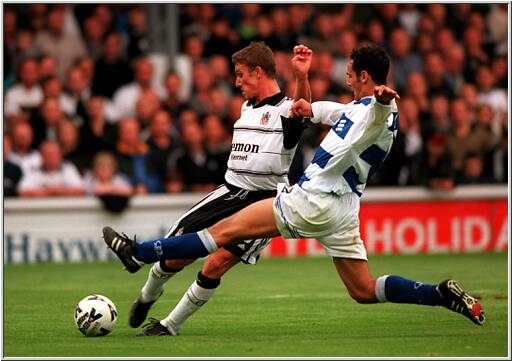 Cast my mind back to the last time I was at Fulham and I recall the waving passports of the R's fans at Alf as he did his walk about looking like a total headcase on day release.
Also Rob Styles who should have come in full Fulham shirt I know many fans think that some refs have it in for their club but I can say that he hated us he made the Wham wannabe Roger Milford look like the greatest ref ever.
Queen's Park Rangers as a club was in a real mess off and on the pitch Fulham might have only won by one goal but truth was they killed us that day and it was easy too see that they were on the way up as we were as clubs going in different directions.
The sad thing is I have no hate for Fulham at all never seen them as rivals and on the odd time a QPR game was called off late once or twice we went to their place and their fans at that time were decent and you could chat and they knew we were QPR and no hassle.
But that game changed it for me they acted up it was kicking off all over the ground,put in the mix the fact their fans could not even manage any kind of comeback to our chants.
Best of which was aimed at a man who was not the tallest and kept giving us the old wanker signs and cutting his neck as in you will get it out side kind of thing to which my mate at the time along with many others seen this during a quiet moment in a mad game sang back at him "you only work at Christmas" to which sent him over the edge and he had to be moved away.
Then at our place they came and acted up like public schoolboys on a day out and managed to find their first porn mag on the bus.
With that song "we''ll never play you again"
Now looking back on it we did hit our lowest point in being in admin we went down the legs and over them years seen us as fans save the club and no matter how bad them days at times were it was always the fans that took us forward.
And now many years later we are really saved and have players that will not only give Fulham a game but will be able to beat them something that was missing back in them days.
Now I hate that song and will never sing it to anyone as I know how I felt when them fecktarts stood as one and sang it to us.
Now Fulham will see on Sunday that some of us will never forgive them for that and nor should we.
I leave the Fulham fans will think this quote over as we show them who the real peoples club of West London is.
"The real glory is being knocked to your knees and then coming back. That's real glory. That's the essence of it."